Products
>>
Pinball Diagnostic Tools
>> Solenoid Output Tester
Solenoid Output Tester
Visual indicator of solenoid circuit status, along with many other circuits. Compatible with all Williams machines from System 3 through WPC-95. Also works with Data East, and Sega/Stern Whitestar generation boards. This tester has a 9-pin molex connecter attached to the underside, which press-fits onto any of your 9 pin molex driver board connectors. Run the red alligator clip to any convenient +5vdc power source, and installation is complete. If you're running muliple testers, as shown below, a pass-thru is provided on a red test loop connector. Once connected, simply activate a solenoid circuit via any available means, and it will lite up the associated green LED on the bar graph. The photo below shows a System 7 driver board set up for a full solenoid test. Running it through the factory test sequence on the CPU board will light each solenoid in sequence. In conjunction with one of the "special" solenoid input boards, this will also test both the CPU fired, and special circuit fired paths for your special solenoids.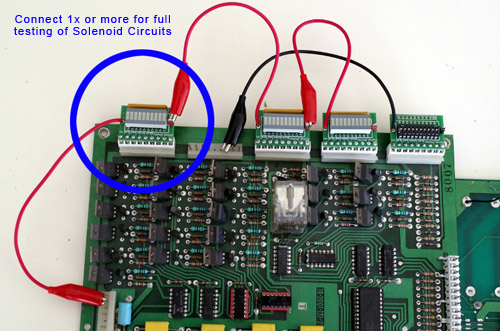 Solenoid Output Tester
Price: $9.95
**Note: Fully Assembled versions of this item may experience an additional 3-5 day shipping delay on your order due to limited stock of assembled inventory at this time.
SHIPPING AVAILABILITY
This item ships only to United States, Canada & Australia
SHIPPING INFO
ASSEMBLED "Pinitech" PCBs are manufactured in the US and are currenty only shipping to the United States, Canada & Australia.
DIY Kits and Bare Boards may be available to other international customers. See below for details. Australia, Canada Customers:
There is a minimum order of $25 (before shipping) due to higher international postage costs. Orders exceeding $400 or 4 pounds in weight must ship Priority Mail International & you will be contacted if additional shipping costs are due. Full order value is declared on customs declarations, no exceptions. Other International Customers:
We do not currently ship assembled pcbs to EU at this time. Paypal is configured to accept only orders from United States, Canada & Australia.