Products
>>
Pinball NVRAM Modules
>> Stern MPU-200 RAM / NVRAM Adapter
Stern MPU-200 NVRAM Module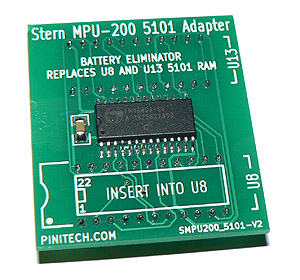 No More Batteries!
This is a premium quality Battery Eliminator / NVRAM replacement for Stern MPU-200 pinball machines. Once installed, you can remove the batteries from your machine and your high scores / settings will be saved for many years to come! This nvram module replaces both 5101 RAM ICs (at U8 and U13) on a Stern MPU-200 board and already has SMD nvram soldered on the board. Modules uses CYPRESS F-RAM non-volatile (nvram) ICs rated at 151-year data retention & 100 trillion reads/writes.
No More Batteries!
And no more worrying about expensive MPU repairs due to batteries that have leaked.
Compatibility:
Ali
Big Game
Catacomb
Cheetah
Cue
Dragonfist
Flight 2000
Freefall
Galaxy
Lightning
Meteor *Note: Original Meteor ROMs have a sound issue when using NVRAM. You must use an updated ROM for Meteor.
We do not provide updated ROMs, so please ensure you can burn your own ROMs or find someone that can sell you updated ROMs.
Orbitor One
Quicksilver
Seawitch
Split Second
Stargazer
Installation Notes
This nvram module is Plug-and-Play. Just remove the MPU-200 board from your machine & place on a table or other flat surface. Remove the existing 5101 RAM ICs at the U8 & U13 sockets on the MPU-200 board. Install this adapter into board and reinstall your MPU board into the machine. You will then just need to set game settings/adjustments per your manual.
---
---
WARRANTY INFORMATION
Pinitech LLC offers a 180-day limited warranty against defects on all ASSEMBLED products manufactured by Pinitech. Warranty does not cover improper installation or modifications beyond intended use. DIY Kits are handled on a per-case basis and limited to parts replacement only. Due to their nature, we cannot warranty assembly done by others on DIY Kits.
LIABILITY INFORMATION
This product was designed ONLY for the purpose as stated in the product description. Pinitech LLC cannot control conditions of installation or use (ie. inadequate repairs of machines, improper installation, aftermarket modifications, etc).
End user agrees to assume any and all liablity of this product.
In no event shall Pinitech LLC be liable for any direct, indirect, punitive, incidental, special consequential damages, to property or life, whatsoever arising out of or connected with the use or misuse of our products.
TECHNICAL SUPPORT
If you have any issues with using this product, please email us! We're happy to help answer your questions & will do our best to resolve any problems you may be having.
You can email us using the information on the
Contact
page. We usually respond within 24-48 hours.
---
SHIPPING INFO
Pinitech products are only shipping to the United States. International orders will be rejected or refunded immediately.