Products
>>
Pinball LED Displays
>> Pinitech TRADITIONAL Bally/Stern Pinball LED Display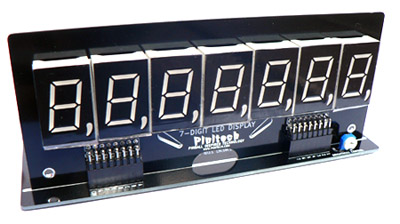 Pinitech TRADITIONAL
Classic Bally/Stern Pinball Display
Full replacement LED display for Classic Bally/Stern pinball machines, available as a DIY Kit or Fully Assembled. 6-digit models replace Bally AS-2518-15, Bally AS-2518-21 and Stern DA-100 displays. 7-digit models replace Bally AS-2518-58 and Stern DA-300 displays.
Features:

Absolutely NO HIGH VOLTAGE! Displays operates off 5v only!
Low Current Usage Design, Built To Last!
Adjustable Brightness Control!
Fully Custom LED Digits With Comma!
Includes Custom-molded Foam Light Block!
LED Displays Blend Superbly With Plasma Displays! (if desired)
Comma Can Be Enabled/Disabled Easily!
WHITE Digit Displays Use Color Filters To Achieve Any Color!
LED Displays That Look Like Plasma Displays!
Tired of LED displays not looking like plasmas? We were too!
Our custom LED digits were manufactured to come as close as you can get to replicating the look of plasma displays.
In fact, what we did comes so close to matching the look of plasma displays that you can practically mix-and-match these LED displays with original plasma displays and have a hard time telling the difference. That's not something that LED displays are typically known for & we were pretty happy to replicate the look that well!
Custom Digits That Set The Bar HIGHER!
Our displays use custom digits (the digits are stamped "PINITECH"). They're not generic digits with comma or even tweaked versions of existing digit designs. We built them ground-up, meticulously crafting the design of the LED digits to match the best characteristics of actual plasma glass Bally/Stern were using in their games in the late 1970's and early 1980's. Font height, angle and other characteristics were adjusted to match REAL plasma glass used on original Bally/Stern displays. It's our own bit of "secret sauce" unique to our displays that make them stand out from the herd.
Quality That Gets Noticed
It's not just the custom digits that make our displays special. We spent extensive time during the initial development of our displays testing the circuits to ensure long life and minimal stress on components and your machine. We've had quite a few customers compare our displays to some name brand displays that have been on the market for over a decade & tell us they like our displays better. Some of these customers are using these displays in their arcades that operate 10-12 hours a day, 7 days a week. One arcade operator reported to us that after several years our displays still functioned like new, while some displays from another manufacturer had digits that had faded in that same time. It's really not surprising to hear of issues with other displays on the market, considering some designs are pushing components beyond their limits for a minimal gain in brightness and just aren't built to last. It's unfortunate because the customer can't tell the difference between a good electrical design or a bad design, but they pay the price down the road when the display stops functioning correctly. If a display only last a few years before having issues, it's no better than LED bulbs claiming 10+ year life expectancy that have to be replaced 6-12 months later. Not all displays are built-to-last.
Pinitech displays were designed to put minimal stress on components so they last a long time.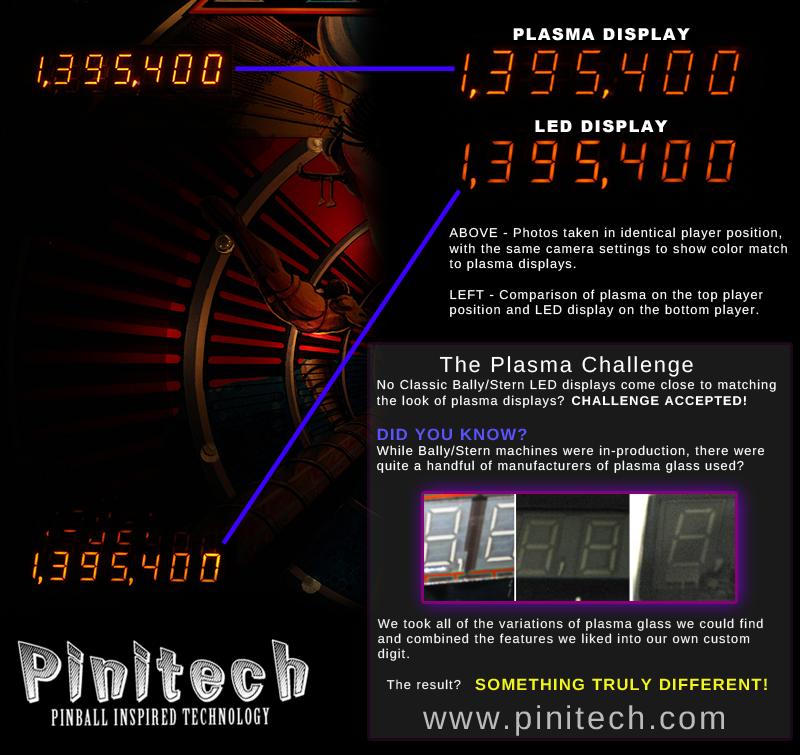 A quick video comparison of our LED displays:
Time 0:00-0:13 - ORANGE LED display (3rd Player Position)
Time 0:14-0:18 - BLUE LED display (2nd Player Position)
Time 0:19-0:25 - Original Plasma Display (1st Player Position)
Time 0:26-0:32 - Plasma Display (top); ORANGE LED display (bottom)
Why Upgrade Your Displays To LED?
No restoration is complete without a brand new set of LED displays! Upgrading to LED displays will breathe new life into the machine, making it feel more modern and bringing back the uniformity and crispness of a matching set of displays like when the machine was new.
Think about it.. where are your eyes drawn on a machine? The backglass. The playfield. And THE DISPLAYS!
Having out-gassing, half-dead or mismatched displays can be very visually distracting when trying to enjoy your game. We've heard people say
"Only one or two of my plasma displays have issues, I'll just wait till the rest kick the bucket and then upgrade."
Makes sense, right? Except while you're waiting for other displays to go bad, you're having to look at displays that DO have issues and that can be pretty distracting when playing your game. Those display issues also tend to stick out like a sore thumb when the games are in attract mode, in an otherwise beautiful line-up of Classic Bally/Stern games. What if you can upgrade NOW, solve your display issues and actually gain something in the process? That's what happens when you upgrade to a full set of LED displays. You instantly free up any of the original working plasma displays that can be used in another game or sold to recoup costs of upgrading to an LED display set. If you go with a DIY Kit, you'll save even more money! Once you've seen a NEW matching set of displays in your game, you'll wonder why you didn't upgrade sooner!
Pinitech Traditional Design
If you hadn't noticed, we have
two models of LED displays available for Bally/Stern games
. The Pinitech TRADITIONAL design is a standard 2-board design (led panel + component board) for people that like the original design of the displays that slide in and out of the display holders in the game. Hence why we called it "TRADITIONAL". If you don't mind trying something a little different, you might want to check out the
Pinitech UNO
that will not only save you a few bucks, but also offers some other unique advantages!
These are great looking, energy-efficient LED displays! Available in ORANGE, RED, BLUE or WHITE digits.
WHITE allows for unlimited color choices using color filters that adhere to the LED digits.
Testimonials:
Below are just a few of the comments we've heard from customers about these displays.
"I don't normally gush over products but these displays are the real deal."
"Worked perfect the first time!"
"Love the displays! DIY Kit instructions are detailed and easy to follow."
"IMHO these displays are better than the originals and worth the upgrade."
"Thanks for paying attention to the details!"
For more testimonials, check out this
Pinside thread
where customers have left some opinions on these displays (and we hope you do too!)
ORDERING INFO
OPTION #1: ASSEMBLED

Completely assembled displays that are ready to plug in to your machine.Note: Limited Availability through the year, please inquire if showing "Out Of Stock" below.


OPTION #2: DIY KIT

DIY Kits include unassembled boards & components to build these awesome looking displays and save quite a bit of money! There's just one catch.. you have to build them! You'll need basic soldering tools and some soldering experience. A temperature-controlled soldering iron is highly recommended, however you can get by with a 15-20w soldering iron with a small tip. Assembly instructions are included.
6-DIGIT SET Game List
Ali, Black Jack, Cosmic Princess, Dolly Parton, Dracula, Eight Ball, Embryon, Evel Knievel, Freedom, Future Spa, Galaxy, Gold Ball, Harlem Globetrotters, Hot Hand, Hotdoggin', Kiss, Lectronamo, Lost World, Magic, Mata Hari, Memory Lane, Meteor, Mystic, Night Rider, Nitro Groundshaker, Nugent, Paragon, Pinball, Playboy, Power Play, Rolling Stones, Silverball Mania, Space Invaders, Star Trek, Stars, Stingray, Strikes & Spares, Supersonic, Trident, Viking, Voltan, Wild Fyre
7-DIGIT SET Game List
Big Game, Black Pyramid, BMX, Catacomb, Centaur I, Centaur II, Cheetah, Cybernaut, Dragonfist, Eight Ball Deluxe, Fathom, Fireball Classic, Fireball II, Flash Gordon, Flight 2000, Freefall, Frontier, Iron Maiden, Kings Of Steel, Nine Ball, Quicksilver, Seawitch, Skateball, Spectrum, Split Second, Spy Hunter, Viper, X's & O's, Xenon See our
PDF guide
for compatibility / display counts for all Classic Bally/Stern games!
Note: A few games utilize different display configurations where there is a display under the playfield or additional displays in the backbox (ie. Six Million Dollar Man, Elektra, Medusa, Mr & Mrs Pac-Man, Vector, Lightning, Orbitor 1). Please Contact Us directly to order for these machines and we'll create a custom invoice for the correct number of displays for your game.
---
---
WARRANTY INFORMATION
Pinitech LLC offers a 180-day limited warranty against defects on all ASSEMBLED products manufactured by Pinitech. Warranty does not cover improper installation or modifications beyond intended use. DIY Kits are handled on a per-case basis and limited to parts replacement only. Due to their nature, we cannot warranty assembly done by others on DIY Kits.
LIABILITY INFORMATION
This product was designed ONLY for the purpose as stated in the product description. Pinitech LLC cannot control conditions of installation or use (ie. inadequate repairs of machines, improper installation, aftermarket modifications, etc).
End user agrees to assume any and all liablity of this product.
In no event shall Pinitech LLC be liable for any direct, indirect, punitive, incidental, special consequential damages, to property or life, whatsoever arising out of or connected with the use or misuse of our products.
TECHNICAL SUPPORT
If you have any issues with using this product, please email us! We're happy to help answer your questions & will do our best to resolve any problems you may be having.
You can email us using the information on the
Contact
page. We usually respond within 24-48 hours.
---
SHIPPING INFO
Pinitech products are only shipping to the United States. International orders will be rejected or refunded immediately.