Products
>>
Pinball NVRAM Modules
>> NVRAM Module for Bally/Midway MCR (Replaces 6116)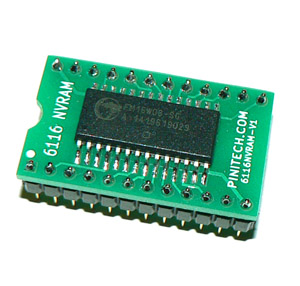 NVRAM Module for Bally/Midway MCR
No more batteries!
This is a premium quality nonvolatile RAM (NVRAM) Replacement for the 6116 RAM used in Bally / Midway MCR Arcade Games. Replaces a 6116, 2016, 4016, 9128 or compatible pinout 2k x 8 SRAM. These modules use CYPRESS F-RAM nvram ICs rated at 151-year data retention & 100 trillion reads/writes. Absolutely no batteries are needed to retain your high scores or game settings, you can remove them from your game. Machine pin headers are used in this module which are very durable and won't damage your socket at all.
REQUIRES SOLDERING / MODIFICATION OF MPU!
Please note that upgrading to nvram on Bally/Midway MCR Arcade Games will require removal of the existing RAM soldered to the board & installation of a 24-pin DIP socket.
In other words,
if you don't have soldering experience or aren't comfortable modifying your board (AT YOUR OWN RISK) then you should hire a professional to do this upgrade for you
or leave your board as-is and replace the lithium battery instead if your game is no longer holding high scores.
INSTRUCTIONS
Power off the game. Remove the main circuit board stack (3 boards). The middle board is the main cpu board. Reference the location of the 6116 RAM chip for your game in the compatibility list below (please note that these locations were gathered off the internet and may not be 100% correct, if you cannot locate your RAM or a location below is incorrect please
contact us
!). Replace the socketed 6116 ram chip on your board with the new nvram module (remove/desolder existing chip and install the included IC socket). When installing the new nvram module into the socket, ensure it is properly oriented with the notch facing the same direction as the old chip.
ARE THESE DIFFERENT THAN OUR 6116 NVRAM?
Yes, these are different even though the picture looks the same. These utilize the same PCB but have a few additional components added that are necessary to work with Bally MCR games.
COMPATIBILITY
Crater Raider (Replaces G5)
Demolition Derby (Replaces G5 6B)
Discs of Tron (Replaces G5 6B)
Domino Man (Replaces B2)
Journey (Replaces G2 B2)
Kick (Replaces D8)
Kick-Man (Replaces D8)
Kozmik Krooz'r (Replaces B2)
NFL (Replaces G5 6B)
Sarge (Replaces G5 6B)
Satan's Hollow (Replaces B2)
Spy Hunter (Replaces G5)
Solar Fox (Replaces D8)
Tapper (Replaces G5 6B)
Timber (Replaces G5 6B)
Tron (Replaces B2)
Two Tigers (Replaces B2)
Wacko (Replaces B2)
*NOTE: EACH MODULE NOW INCLUDES A FREE 24-PIN IC SOCKET!
Shipping Information
NVRAM is shipped in anti-static foam & anti-static bag inside a small USPS First Class Mail box. Installation instructions are included.
---
---
WARRANTY INFORMATION
Pinitech LLC offers a 180-day limited warranty against defects on all ASSEMBLED products manufactured by Pinitech. Warranty does not cover improper installation or modifications beyond intended use. DIY Kits are handled on a per-case basis and limited to parts replacement only. Due to their nature, we cannot warranty assembly done by others on DIY Kits.
LIABILITY INFORMATION
This product was designed ONLY for the purpose as stated in the product description. Pinitech LLC cannot control conditions of installation or use (ie. inadequate repairs of machines, improper installation, aftermarket modifications, etc).
End user agrees to assume any and all liablity of this product.
In no event shall Pinitech LLC be liable for any direct, indirect, punitive, incidental, special consequential damages, to property or life, whatsoever arising out of or connected with the use or misuse of our products.
TECHNICAL SUPPORT
If you have any issues with using this product, please email us! We're happy to help answer your questions & will do our best to resolve any problems you may be having.
You can email us using the information on the
Contact
page. We usually respond within 24-48 hours.
---
SHIPPING INFO
Pinitech products are only shipping to the United States. International orders will be rejected or refunded immediately.