Products
>>
Pinball Mods
>> 64 Switch Matrix Tester for Pinball Machines
64 Switch Matrix Tester
This is a full 64 switch matrix tester that can be utilized when diagnosing nearly any solid state pinball machine. You might call this the "Cadillac of Switch Matrix Testers" -- or maybe "the ultimate Switch Matrix Tester" -- or "the BFSMT 2000". Maybe you'll just think we're nuts for creating a switch matrix tester with 64 buttons. Regardless, anyone repairing pinball machines or pinball circuit boards will quickly grow to love the versatility and convenience of this tester when performing repairs and wonder how they got by without it. There wasn't a better switch matrix tester available for purchase, so we built one! Read on to find out what makes this a great go-to tool for diagnosing switch matrix issues for just about any manufacturer's pinball machine.
Additional Product Images (click to enlarge):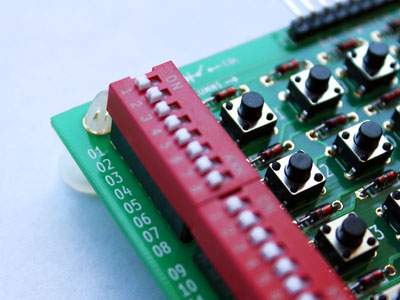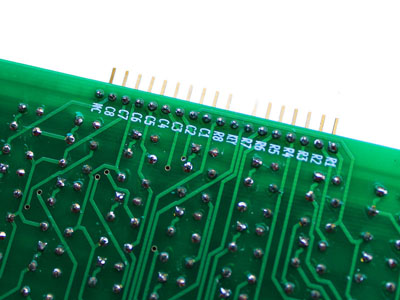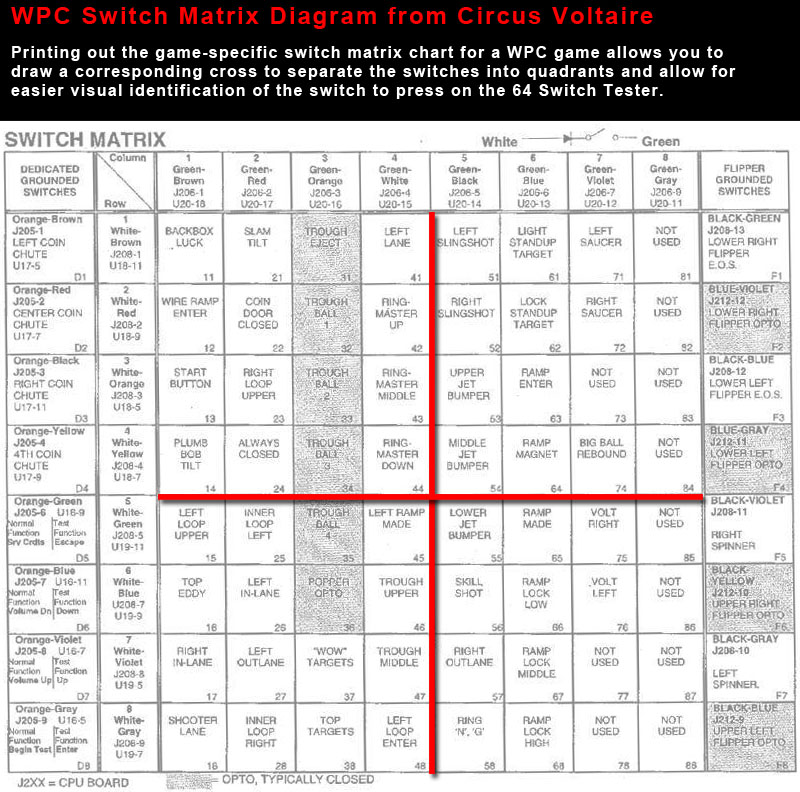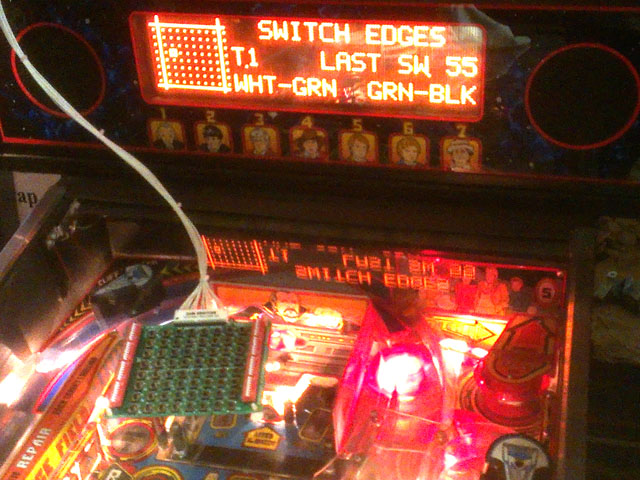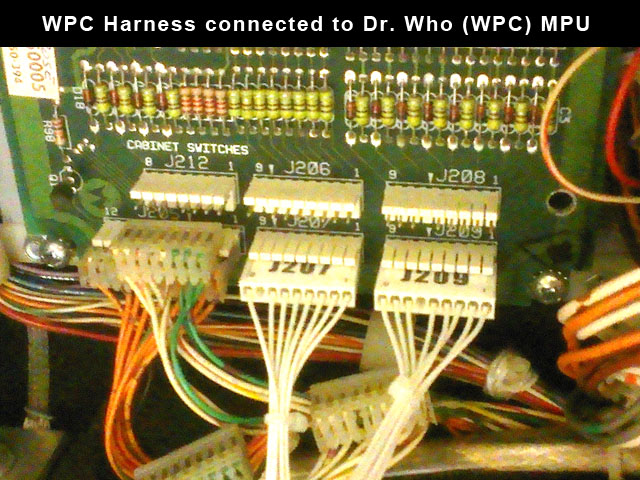 How Can A Switch Matrix Tester Help You?
For those that aren't too familiar with where a tool like this would be useful, the easiest explanation is that it can help you troubleshoot non-working or locked-on playfield switches by isolating the playfield switches from the MPU board. This is done by unplugging the playfield switch harnesses from the MPU & then plugging in the Switch Matrix Tester harness. You can then activate switches via the Switch Matrix Tester & verify the MPU board is detecting the switches correctly. If switches aren't being detected by the MPU properly, then there is an issue with the MPU switch circuitry. If switches are working properly, then the issue is somewhere in the playfield wiring or at the switch itself. Isolating issues in this manner helps speed repair time for anyone fixing up a lot of older games in various states of disrepair or doing their own board work.
Overview of Features
64 dedicated switches for instant access to up to 64 playfield switches
Can be utilized with just about any pinball machine - Williams System 3-7, Williams System 11, Williams WPC, Data East, Gottlieb System 1, Gottlieb System 80, Gottlieb System 3, Classic Bally/Stern, Bally-6803, Sega/Stern Whitestar and more!
64 DIP Switches to allow you to lock any of the 64 switches fully ON
WPC switch #24 "ALWAYS ON Switch" identified on the board
PCB stand-offs included (with kit or assembled version ONLY) to elevate the board off any surface that may be conductive
Silk-screen "cross-hair" on the tester board breaks up the 64 switches into 4 quadrants allowing you to more easily located switches that are numbered differently
Printable "Cheat Sheets" for games whose switch matrix are numbered differently (use with silks-screen cross-hair to easily locate switches)
Board can be used with just the DIP switches & diodes connected, or just the momentary switches & diodes, or fully populated.
What Makes This A Better Switch Matrix Tester?
Lots of things. First of all, it
allows you instant access for up to 64 playfield switches
. This means you can easily find and activate any switch at the press of a single button. No holding down multiple buttons to activate a single switch.
You can activate more than one switch at once!
Having 64 buttons and 64 diodes means it truly mimics the switch matrix setup in a real pinball machine, where each switch can be recognized independently. This is useful when diagnosing switch circuitry issues or when isolating other problems that only occur when there are multiple switches pressed at the same time. It also comes in very handy when simulating games at the bench.
It can be used with just about every manufacturer's pinball machine from 1977 thru current day
. This tester can be used on Williams System 3-7, Williams System 9, Williams System 11, Williams WPC, Data East, Gottlieb System 1, Gottlieb System 80, Gottlieb System 3, Classic Bally/Stern (ie. Bally-17, Bally-35, Stern MPU-100, Stern MPU-200), Bally-6803, Sega/Stern Whitestar and more! All you need is the appropriate wire harness to connect to each manufacturer's board that you would like to hook the switch tester up to.
Note: You will need separate wire harnesses to be able to connect the Switch 64 Tester to each manufacturer's boards (ie. Williams is different than Gottlieb is different than Bally). Hareness kits or assembled harnesses are available for purchase separately below.
We made it easier to locate switches for the manufacturers that have alternate switch numbering
. Switch numbers marked in silkscreen on the board are based on the common Williams Switch Matrix. This was done because Williams games are very popular and so it made sense to use the Williams switch numbering on the PCB. If you look up a switch matrix chart for practically any Williams System 3-7 or System 11 game, the switch numbering is the same as what you'll see printed on the PCB. Williams changed their numbering on the WPC system however, instead following what some of the other manufacturers like Gottlieb had done and numbering according to the row and column numbers. This is where the silkscreen "cross" printed on the PCB comes in handy. Simply print out the Switch Matrix Cheat Sheet and you'll easily be able to find switches for your Williams WPC or non-Williams games, using the silkscreen cross as a reference and machine-specific switch numbering on the cheat sheet. This also helps with finding the correct DIP switch to activate (smaller number in grey on the cheat sheet).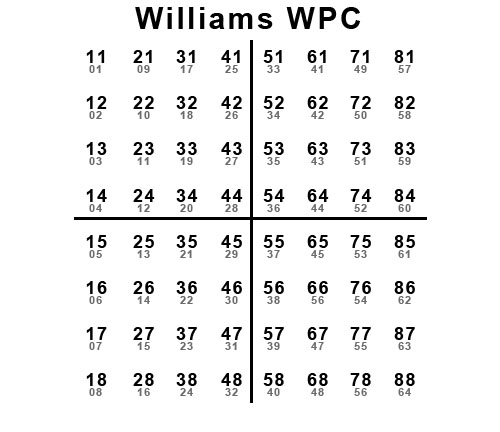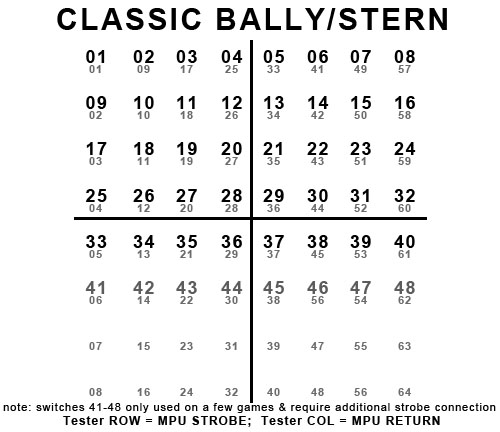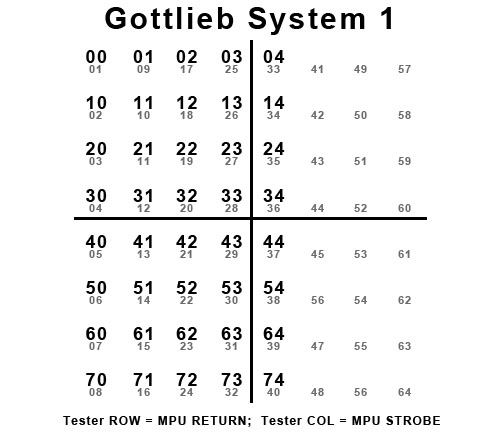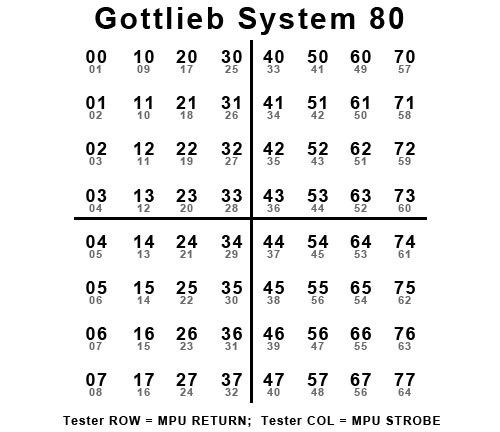 In addition to these generic manufacturer charts, there's also a
Switch Matrix Database
being created so you can view (on your cell phone or tablet) or print out game-specific switch matrix charts that correspond to the layout of the 64 Switch Matrix Tester.
Check it out here!
Convenient size and versatile usage
. The 64 Switch Tester measures roughly 5 inches wide x 4 inches tall. This easily allows almost any adult to comfortably hold the board in one hand and press a button with the other hand. But what if you don't want to hold it? No problem -- the 64 Switch Tester supports PCB stand-offs in the corners that allow you to sit the tester on the playfield glass or on top of your bench, keeping the board elevated from the surface and minimizing the risk of conductive shorts.
Lock any switch fully ON via 64 DIP switches
. Sure it's nice to be able to activate multiple switches by pressing buttons, but with 64 DIP switches you don't have to play "TWISTER" to keep the switches activated. Just set any of the DIP switches in the ON position for any combination of switches you want to keep active. This comes in handy in many ways -- you can lock all switches ON and test that they are all being recognized with ease during switch test. You can lock multiple switches ON to work through tough switch matrix issues. It also helps if you are simulating multi-ball games at the bench that require all balls in their troughs in order to enter attract mode. Is it overkill to have this much control over the switches? Maybe. But we think it's pretty darn cool. Compact, extremely useful and versatile, this tester is the ultimate go-to board for diagnosing switch matrix issues!
*Note: No wire harness or materials to build a wire harness are included with the tester boards.
Unassembled wire harness kits are available for purchase separately. Read below for further information.
Usage of the 64 Switch Matrix Tester
Pretty simple really. Once you have an assembled 64 Switch Matrix Tester board and wire harness built (see wire harness kit options below) you simply disconnect the pinball machine's playfield switch matrix harness(es) and connect the switch matrix tester harness to the MPU board with the machine off. Verify all DIP switches on the tester board are in the OFF position and then turn the machine on. You can then enter diagnostic mode on the machine (usually via the coin door diagnostic switches) and enter switch test mode to start testing switches.
*Note: Assembled wire harnesses & wire/connector kits below are for testing the playfield switch matrix ONLY. Some games have "cabinet switch" connections (ie. Classic Bally/Stern, Bally 6803, etc). As long as the switches have rows/cols or strobes/returns and a diode, you should be able to create a custom wire harness and utilize this tester for testing other switch circuitry.
If you utilize this tester at the bench with either factory test rigs or your own home-built test rigs, it can be used to simulate a game and isolate switch matrix issues before placing the MPU back into a machine.
Are Instructions Included?
You bet! Provided with your order will be a paper that includes a link to all the documentation including Kit Assembly Instructions, Usage Instructions, Wire Harness Assembly Instructions, Switch Matrix Cheat Sheets & more. We have made assembly of the PCB and wire harnesses as straight-forward as possible (if you're buying kits).
Compatibility
The 64 Switch Matrix Tester is compatible with MOST solid state pinball machines that use 64 switches or less and utilize the same type of switch matrix setup (strobes/returns or rows/columns and diodes). Wire harness options are available from Pinitech for as many machines as possible, but there are some manufacturer's machines we do not have wire harnesses for either because they have not been tested or demand would not be there. Some newer games (ie. Stern S.A.M. can use more than 64 switches) and the additional rows/cols would need to be handled separately. Gottlieb System 3 for example can use up to 108 switches (12 switch strobes, 8 switch returns). This tester can be utilized with games that use over 64 switches, but you would either need to use 2x testers at the same time (having the additional strobes go to the 2nd tester) or if using a single switch matrix tester the rows/cols could be split into separate connectors so you could swap-in the higher switch numbers. The 64 Switch Tester has been tested with the following:
Williams System 3-7
Williams System 9
Williams System 11
Williams WPC
Data East System 1-3
Classic Bally/Stern (ie. Bally-17, Bally-35, Stern MPU-100, Stern MPU-200)
Bally 6803
Gottlieb System 1 (*see note below)
Gottlieb System 80, 80A, 80B
Sega/Stern Whitestar
*Gottlieb System 1 machines use 1N270 germanium type diodes in their switch matrix. An issue of Gottlieb's newsletter "ONTARGET" mentions that using silicon diodes like the 1N4148 will not guarantee valid logic states. Even so, many people have used 1N4148 diodes to replace the under-playfield diodes without issue & in order to be as versatile as possible, the "64 Switch Matrix Tester" uses 1N4148 diodes since most games use silicon diodes in their switch matrix. It should be noted however, that there *could* be switch detection issues on Gottlieb System 1 games since 1N4148 diodes are being used instead of 1N270 germanium diodes. We have not seen this occur yet, but the possibility is there. When replacing the game under-playfield 1N270 diodes it's recommended to replace with germanium diodes, but for a switch tester the 1N4148 diodes should be adequate for testing purposes in most cases.
---
64 SWITCH TESTER PCB PURCHASING OPTIONS
Option #1: DIY Kit - Unassembled Bare PCB & Components ($99.95 each) Unassembled PCB that requires soldering. This DIY Kit comes with a bare board & PCB components. It's for DIY'ers that want to save a few dollars building the PCB themselves. Build time is approx 1.5-2 hours for someone experienced with soldering PCB boards.
Again, this does not include any wire harness materials!
You must purchase a wire harness kit or fully assembled wire harness separately if you do not have your own materials to make a wire harness to connect between the 64 Switch Tester and MPU. Wire harness options are listed below. Detailed instructions to build the PCB are included. DIY includes: 64x momentary buttons, 64x 1n4148 diodes, 8x DIP switches, 8x 16-position DIP sockets, 1x 2.54mm right angle male header, 4x PCB stand-offs.
Option #2: Fully Assembled PCB ($349.95 each) A fully assembled and tested switch matrix tester board (*PCB only, wire harnesses must be purchased separately). These aren't cheap, but are available as an option to anyone that doesn't have the time, tools or desire to build the DIY Kit. They're hand-assembled and take multiple hours per PCB to build out and clean up the flux, so they are priced accordingly. We highly recommend you purchase a DIY KIT if you have proper solder equipment and have plenty of time to spare, as you'll save quite a bit over the cost of an assembled unit. This is the fully assembled PCB only.
This does not include any wire harness materials!
You must purchase a wire harness kit or fully assembled wire harness separately if you do not have your own materials to make a wire harness to connect between the 64 Switch Tester and MPU. See wire harness kit options below. A link is provided with every order with usage, wire harness assembly instructions and more.
Option #3: Bare PCB ($64.95 each)
Bare PCB only! Does not include any components.
You will need to supply your own components (switches, diodes, dip switches, 18-pin header) as these ARE NOT INCLUDED. Again, this is just the PCB only! Instructions are included and will list components that have to be purchased to assemble the pcb.
NOTE: NO WIRE HARNESS IS INCLUDED WITH ANY OF THE ABOVE OPTIONS. You will need a wire harness to connect the tester board to the MPU. Unassembled wire harness kits or Fully Assembled wire harnesses can be purchased separately (see options below). If you do not purchase a wire harness kit or fully assembled wire harness, you will need to source the wire harness components yourself in order to interface with an MPU board.
Fully assembled versions of this item will take 7-10 days to ship once your order is placed since these are built on-demand.


WIRE HARNESS PURCHASING OPTIONS
No wire harnesses are included with the 64 Switch Tester Board. You will need to make wire harnesses for each manufacturer you want to use the switch tester with using your own parts & wire. We have DIY Kits available below, or assembled options. The wire is approximately 2.5ft in length on these harnesses to make testing more convenient.
Option #1: Wire Harness DIY Kit These are DIY wire harness kits.
They are unassembled, meaning you will need crimping tools that can crimp 0.1" and in many cases 0.156" crimp contacts.
Each kit will include 40ft (16x 2.5ft strips) of 22awg wire,
pre-labeled
Molex connectors, wire ties and Molex crimp contacts. The wire harness DIY Kits are manufacturer specific, so you'll need to select which manufacturer you want to build a wire harness for from the drop-down list below. Price: $34.95 each
Option #2: Fully Assembled Wire Harness
Fully assembled & tested wire harnesses, ready-to-go!
We'll be the first to admit, these fully assembled wire harnesses aren't cheap! That's because on our side these are hand-assembled, so they do take time to build out (especially if assembling a few dozen a month). If you know how to crimp, the DIY option is far cheaper and if you build them out one at a time it's not a big endeavor. On our side though, for months we have assembled dozens of these it's just too much of a time impact. So, these fully assembled harnesses are priced accordingly. We highly encourage you to go DIY if you can or even roll-your-own out of your own materials, as you'll save more money that way. That said, this option is being made available for anyone that highly values their time or lacks the tools to build thier own. Add as many wire harnesses as you would like to your order (ie. to test WPC boards AND System 11 boards, you would need one of each). Price: $69.95 each
Fully assembled versions of this item will take 7-10 days to ship once your order is placed since these are built on-demand.


---
WARRANTY INFORMATION
Pinitech LLC offers a 180-day limited warranty against defects on all ASSEMBLED products manufactured by Pinitech. Warranty does not cover improper installation or modifications beyond intended use. DIY Kits are handled on a per-case basis and limited to parts replacement only. Due to their nature, we cannot warranty assembly done by others on DIY Kits.
LIABILITY INFORMATION
This product was designed ONLY for the purpose as stated in the product description. Pinitech LLC cannot control conditions of installation or use (ie. inadequate repairs of machines, improper installation, aftermarket modifications, etc).
End user agrees to assume any and all liablity of this product.
In no event shall Pinitech LLC be liable for any direct, indirect, punitive, incidental, special consequential damages, to property or life, whatsoever arising out of or connected with the use or misuse of our products.
TECHNICAL SUPPORT
If you have any issues with using this product, please email us! We're happy to help answer your questions & will do our best to resolve any problems you may be having.
You can email us using the information on the
Contact
page. We usually respond within 24-48 hours.
---
SHIPPING INFO
Pinitech products are only shipping to the United States. International orders will be rejected or refunded immediately.