Products
>>
Pinball NVRAM Modules
>> Pinball NVRAM - 6264 NVRAM Battery Eliminator (also replaces 6064, 2064 RAM)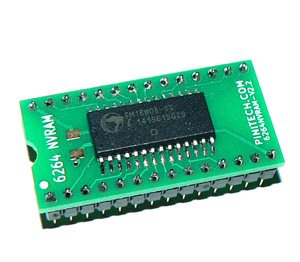 6264 NVRAM Module
No More Batteries!
This is a premium quality Battery Eliminator / NVRAM for the 6264 RAM used in pinball & arcade machines. Once installed, you can remove the batteries from your machine and your high scores / settings will be saved for many years to come! Replaces a 6264, 6064, 2064 or compatible pinout "8k x 8" SRAM. These modules use CYPRESS F-RAM nvram ICs rated at 151-year data retention & 100 trillion reads/writes. Module installs easily into any IC socket.
Please note some games may require removal of the existing RAM and installation of a 28-pin IC socket (included) to use this nvram module.
See the COMPATIBILITY LIST below for more info.
WHY REPLACE YOUR EXISTING RAM WITH NVRAM?
Batteries leak. Even brand new batteries from major brands have leaked a year or two later for no apparent reason and cause hundreds of dollars in repairs or replacement of boards and components affected. Upgrading to NVRAM will save you time, money and any future worry of battery damage. It's one of the best mods you can do to your games.
COMPATIBILITY LIST
For pinball machines, download the "Pinball NVRAM Game List" PDF document to find what type of NVRAM you need for each game you'd like to upgrade. This will also help identify what games are plug-and-play and which require soldering for installation.
Additionally, check out the compatibility chart below for board diagrams showing the location of the RAM on the board, difficulty of the installation & any other usage/installation notes.
BOARDSET
DIFFICULTY
RAM LOCATION
NOTES
DATA EAST
EASY
(see notes)
5D
(see picture)
Plug-and-Play except on "Laser War". If installing nvram in Laser War you may have a "Data East System 1" MPU that only works with the 6116 NVRAM Module.
SEGA WHITESTAR
EASY
(see notes)
U212
(see picture)
Plug-and-Play. If current jumper setting is for 32k RAM (ie. 62256 RAM from the factory installed) it's a good idea to change to the 8k setting.Jumpers block "JP1" is usually directly below the RAM chip and may be a physical jumper on some boards instead of a movable shunt/jumper block.
STERN WHITESTAR
EASY
(see notes)
U212
(see picture)
Plug-and-Play. If current jumper setting is for 32k RAM (ie. 62256 RAM from the factory installed) it's a good idea to change to the 8k setting.Jumpers block "JP1" is usually directly below the RAM chip and may be a physical jumper on some boards instead of a movable shunt/jumper block. *Note: Sharkey's Shootout requires a 62256 NVRAM Module to be used.
WILLIAMS SYSTEM 11
MODERATE
U25
(see picture)
NOT PLUG-AND-PLAY. Note that ALL Williams System 11 games used a 6116 RAM from the factory, so you'll generally want to go with the 6116 NVRAM Module to avoid having to make any jumper changes to the MPU board. With that said, you CAN use a 6264 RAM on later revision MPUs (System 11B, System 11C), by making the jumper change noted below. Jumper Settings (Sys 11B / 11C Boards):
W5 installed (W6 removed) = 6116 NVRAM
W6 installed (W5 removed) = 6264 NVRAM
WILLIAMS WPC
HARD
U8
(pictures below) WPC-89
Includes WPC-Alpha, WPC-Dot, WPC-Flip1, WPC-Flip2

WPC-S

WPC-95

NOT PLUG-AND-PLAY. Requires removal of existing RAM & installation of a socket! Unless someone has replaced the RAM and installed a socket, you will need to remove the existing RAM IC and install a 28-pin socket. Rated higher difficulty due to thin traces on Williams WPC MPUs. A jumper change may also be required. Note: Games could use either a 62256 SRAM or 6264 SRAM. If your game is currently using a 6264 SRAM at U8 no changes are needed. If your game currently has a 62256 in it, you may want to consider just purchasing the 62256 NVRAM Module to avoid having to make any jumper changes. Jumper Settings:
6264 = install R93 (1.5k ohm resistor) and remove jumper W3
*Only needed if your existing ram IS NOT a 6264
Real-time clock will not function correctly on any games that utilized the clock for Midnight Madness Mode or other special time-sensitive modes.
Midnight Madness Mode will not start at the correct time on Dirty Harry, Johnny Mnemonic, WHO Dunnit, Theatre of Magic, Congo, Junk Yard or NBA Fastbreak. In addition to this music on Creature From the Black Lagoon based on different dates will be affected. Twilight Zone's clock on the playfield will not show the correct time. There may be other games affected in addition to those listed here. Basically these functions will still work, but will not be based on the correct time since with nvram installed the real-time clock does not get updated when the machine is powered off.
*NOTE: EACH MODULE NOW INCLUDES A FREE 28-PIN IC SOCKET!
Your current RAM might not be labeled as a "6264" or "62256" -- some RAM manufacturers used different numbering on their RAM like "LH5164AH-10L" for a 6264. The easiest thing to do is to write down the numbers on the RAM IC (located via the pictures above) and Google it to see if it's an 2K SRAM (6116), 8K SRAM (6264) or 32K SRAM (62256). If in doubt, please contact us with a picture of your RAM or the number on the chip and we'll help you out.
COMPATIBILITY WITH OTHER DEVICES
This memory may also work in other applications where a 6264 RAM is used, but should not replace memory in critical circuits without proper testing. The 6264 module has been used to replace the Dallas DS1225Y Nonvolatile SRAM in Tektronix Oscilloscopes. The F-RAM chips latch each address on the falling edge of the /CE (chip enable) line, so in the hardware being upgraded the /CE line must be toggled for every read/write (not tied to GND). The chip enable circuit can be verified via schematic, but the toggling of the chip enable line on every read/write would need to be verified via logic analyzer.
--- NOTE ON BOARDS REQUIRING SOCKET INSTALLATION --- Boards listed as "*requires socket installation" above (mostly just WILLIAMS mpus) will require the existing SRAM to be desoldered/removed from the board and a socket installed in its place. If you do not have proper equipment or experience to desolder ICs and install a socket, this mod may not be for you as some of these boards have delicate traces. Please be aware of this before purchasing the nvram module. Any attempt to modify your board is AT YOUR OWN RISK.
If you're upgrading a board that requires modifications and don't feel you have the right equipment or technique, please seek professional installation or use a remote battery pack instead.
NVRAM is shipped in anti-static foam & anti-static bag inside a small USPS First Class Mail box. Installation instructions are included.
---
---
WARRANTY INFORMATION
Pinitech LLC offers a 180-day limited warranty against defects on all ASSEMBLED products manufactured by Pinitech. Warranty does not cover improper installation or modifications beyond intended use. DIY Kits are handled on a per-case basis and limited to parts replacement only. Due to their nature, we cannot warranty assembly done by others on DIY Kits.
LIABILITY INFORMATION
This product was designed ONLY for the purpose as stated in the product description. Pinitech LLC cannot control conditions of installation or use (ie. inadequate repairs of machines, improper installation, aftermarket modifications, etc).
End user agrees to assume any and all liablity of this product.
In no event shall Pinitech LLC be liable for any direct, indirect, punitive, incidental, special consequential damages, to property or life, whatsoever arising out of or connected with the use or misuse of our products.
TECHNICAL SUPPORT
If you have any issues with using this product, please email us! We're happy to help answer your questions & will do our best to resolve any problems you may be having.
You can email us using the information on the
Contact
page. We usually respond within 24-48 hours.
---
SHIPPING INFO
Pinitech products are only shipping to the United States. International orders will be rejected or refunded immediately.