Products
>>
Pinball NVRAM Modules
>> 5114 / 6514 NVRAM Module for Pinball Machines (also replaces 2114, 5514, 9114 RAM)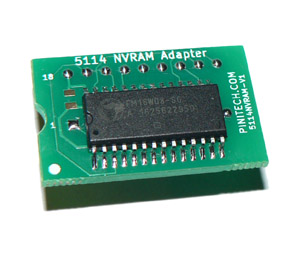 5114 NVRAM Module
No More Batteries!
This is a premium quality Battery Eliminator / NVRAM replacement for the 5114 RAM used in arcade machines. Once installed, you can remove the batteries from your machine and your high scores / settings will be saved for many years to come! Replaces a 2114, 5114, 5514, 6514, 9114 or compatible pinout 1024 x 4 SRAM. These modules use CYPRESS F-RAM nvram ICs rated at 151-year data retention & 100 trillion reads/writes. Module installs easily into any IC socket.
Please note some games may require removal of the existing RAM and installation of a 28-pin IC socket (included) to use this nvram module.
See the COMPATIBILITY LIST below for more info.
WHY REPLACE YOUR EXISTING RAM WITH NVRAM?
Batteries leak. Even brand new batteries from major brands have leaked a year or two later for no apparent reason and cause hundreds of dollars in repairs or replacement of boards and components affected. Upgrading to NVRAM will save you time, money and any future worry of battery damage. It's one of the best mods you can do to your games.
---
ARCADE GAME COMPATIBILITY
The 5114 Module should work with many arcade games that used a 2114, 5114, 5514, 6514, 9114, etc. Modules are designed to work with original linear power supplies. If using a switching power supply, some additional modifications / considerations may need to be considered (ie. it's been noted on arcade forums that some games may require a 4700uf-12000uf 25v filter capacitor across the 12v power supply rail on switching power supplies to prevent RAM corruption at power down). Also note that the F-RAM chips latch each address on the falling edge of the /CE (chip enable) line. The /CE line must be toggled for every read/write (not tied to GND), this can be verified via schematics or a logic analyzer. There may be timing or other hardware incompatibilities to take into consideration when using this module with games not listed below.
A few arcade games that the 5114 NVRAM is compatible with:
Berzerk (replace RAM at location 1E and set W11 jumper for "6514" per manual)
Blaster
Bubbles (needs 2x of these nvram modules to replace RAM at locations 0B & 1C)
Frenzy (replace RAM at location 1E and set W11 jumper for "6514" per manual)
Joust
Joust2
Qix (requires 2x modules staggered & possible capacitor upgrade to power supply, see this forum post for more info)
Robotron
Sinistar
Splat
Stargate
Zookeeper (requires 2x modules staggered & possible capacitor upgrade to power supply, see this forum post for more info)
Note: This module is not being sold as compatible with Zaccaria G2 pinball machines as some issues have been reported.
While these issues could be isolated to certain games or configurations, it appears better compatibility is achieved by using a dual-5114 nvram module specifically made for Zaccaria games since the RAM chips work together. We currently do not have a Zaccaria G2 specific NVRAM available.
BEFORE ORDERING, READ BELOW!!!
Unfortunately we are not heavy into arcade games, so info listed above for compatibility is based on customer reports or information we could find online. We are doing our best to update this information as customers report what does and doesn't work, however you'll want to consult your manual to determine quantity of 5114 RAM used in your game. Also, we recommend doing a search at
KLOV arcade forum
for your "
YOUR_GAME_NAME nvram
" so you're aware of what installation steps may be necessary, further compatibility info, etc.
Please let us know if you have success using this module successfully in other arcade games so we can add them to the list!
*NOTE: EACH MODULE NOW INCLUDES A FREE 18-PIN IC SOCKET!
---
---
WARRANTY INFORMATION
Pinitech LLC offers a 180-day limited warranty against defects on all ASSEMBLED products manufactured by Pinitech. Warranty does not cover improper installation or modifications beyond intended use. DIY Kits are handled on a per-case basis and limited to parts replacement only. Due to their nature, we cannot warranty assembly done by others on DIY Kits.
LIABILITY INFORMATION
This product was designed ONLY for the purpose as stated in the product description. Pinitech LLC cannot control conditions of installation or use (ie. inadequate repairs of machines, improper installation, aftermarket modifications, etc).
End user agrees to assume any and all liablity of this product.
In no event shall Pinitech LLC be liable for any direct, indirect, punitive, incidental, special consequential damages, to property or life, whatsoever arising out of or connected with the use or misuse of our products.
TECHNICAL SUPPORT
If you have any issues with using this product, please email us! We're happy to help answer your questions & will do our best to resolve any problems you may be having.
You can email us using the information on the
Contact
page. We usually respond within 24-48 hours.
---
SHIPPING INFO
Pinitech products are only shipping to the United States. International orders will be rejected or refunded immediately.