Products
>>
Pinball Diagnostic Tools
>> Special Solenoid Input Tester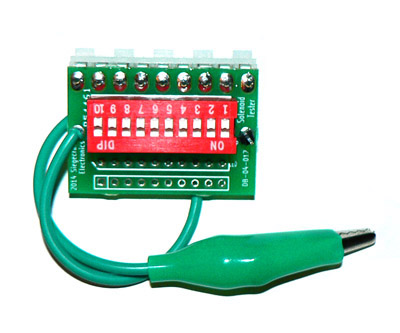 Special Solenoid Input Tester
Special solenoid circuit tester board for Williams System 3 through early System 11, and early Data East. Allows for easy bench testing, and eliminates the need for piles of bulky and cumbersome test leads. Comes pre-assembled, ready to use upon arrival.
More Details:
Simply plug the tester board connector into the special solenoid switch input connector on your driver board, then run the attached alligator clip lead to any available ground connection. Once connected, the dip switches on the diagnostic board will act as playfield switches would for your special solenoids. System 3-7 connections for this board are shown in the photo below. This is intended to be used in conjunction with
Solenoid Output Testers
connected at 2J12, and closing dip switches on this tester should cause the matching LED for that circuit to light. If it does not light up, that indicates a problem on your driver board. On the special solenoid testers there is also a black test loop present. This is an extension of the ground that you connected the alligator clip to.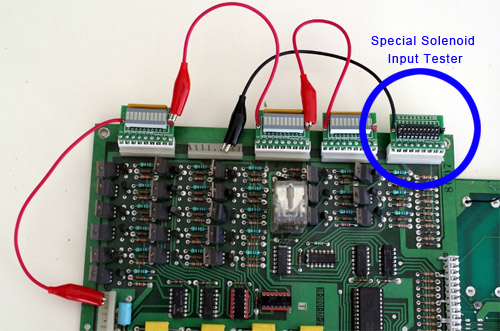 Special Solenoid Input Tester
Price: $9.95
**Note: Fully Assembled versions of this item may experience an additional 3-5 day shipping delay on your order due to limited stock of assembled inventory at this time.
SHIPPING AVAILABILITY
This item ships only to United States, Canada & Australia
SHIPPING INFO
ASSEMBLED "Pinitech" PCBs are manufactured in the US and are currenty only shipping to the United States, Canada & Australia.
DIY Kits and Bare Boards may be available to other international customers. See below for details. Australia, Canada Customers:
There is a minimum order of $25 (before shipping) due to higher international postage costs. Orders exceeding $400 or 4 pounds in weight must ship Priority Mail International & you will be contacted if additional shipping costs are due. Full order value is declared on customs declarations, no exceptions. Other International Customers:
We do not currently ship assembled pcbs to EU at this time. Paypal is configured to accept only orders from United States, Canada & Australia.