Products
>>
Pinball Diagnostic Tools
>> Bally/Stern Lamp Driver Board Tester
Bally/Stern Lamp Driver Board Tester
This is a testing tool for classic Bally/Stern pinball machines (ie. machines with Bally-17, Bally-35, Stern MPU-100, Stern MPU-200 MPUs in them). It's used for testing the lamp driver board circuitry to aid in identifying bad SCRs or ICs on the lamp driver board. It connects to directly to the J1, J2 or J3 header pins on the lamp driver board.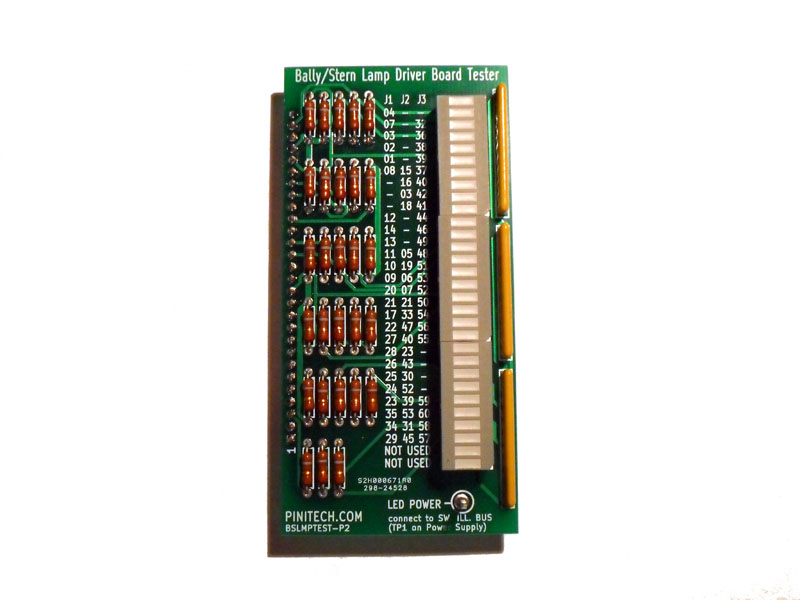 Features
Instantly see what SCRs on the lamp driver board are not lighting or "stuck on"
SCR chart printed on the circuit board to easily find offending SCR number
Small and portable
Usage of the Bally/Stern Lamp Driver Board Tester
This tester board connects directly to either J1, J2 or J3 header pins on the lamp driver board. You then hook the "LED POWER" header pin on the tester board to the "Switched Illumination Bus" (TP1 on the Bally/Stern rectifier board) via alligator clips/wires (not supplied). Once connected in the machine, you can then turn the machine on and press the test switch on the coin door to enter the feature lamp test. This will flash the lamps on and off, which will cause the LEDs on the tester board to flash on and off. If an LED is always on or never lights, you can then reference the SCR number on the board to know what SCR likely needs to be replaced. This makes it much easier to diagnose lamp driver board circuitry issues by taking playfield wiring/sockets out of the equation.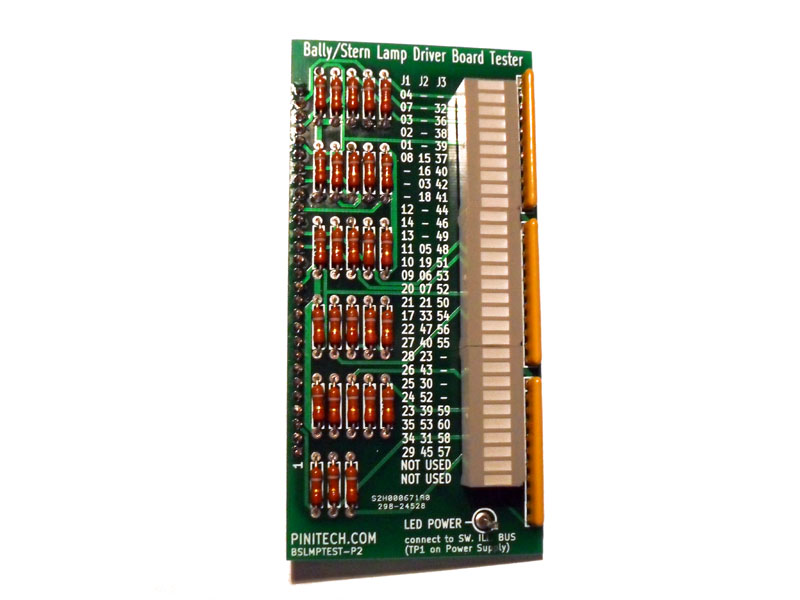 Now available as a DIY Kit. Limited instructions currently, but assembly is fairly straight-forward if you have built other kits/pcbs. Bally/Stern Lamp Driver Board Tester
$49.95 (Fully Assembled)
$24.95 (DIY Kit, soldering required, limited instructions) --
ON SALE! Regularly $26.50
Please CONTACT US for availability if interested in this item.
SHIPPING AVAILABILITY
This item ships only to United States, Canada & AustraliaTHIS ITEM MAY BE AVAILABLE AS A DIY KIT TO OTHER INTERNATIONAL CUSTOMERS (please inquire)
SHIPPING INFO
ASSEMBLED "Pinitech" PCBs are manufactured in the US and are currenty only shipping to the United States, Canada & Australia.
DIY Kits and Bare Boards may be available to other international customers. See below for details. Australia, Canada Customers:
There is a minimum order of $25 (before shipping) due to higher international postage costs. Orders exceeding $400 or 4 pounds in weight must ship Priority Mail International & you will be contacted if additional shipping costs are due. Full order value is declared on customs declarations, no exceptions. Other International Customers:
We do not currently ship assembled pcbs to EU at this time. Paypal is configured to accept only orders from United States, Canada & Australia.